Welcome to Shukido Karate
About us
Shukido-karate has founded in 1994.We adopt yoga(kundalini-yoga) and chinese kung-fu method(yi-quan), that is a difference with other Karate-style. Because we want to develop both body and mind(spirit).Then we will be more powerfull and healthy through Budo(karate) training.
■I hope Shukido-Karate will enrich your life.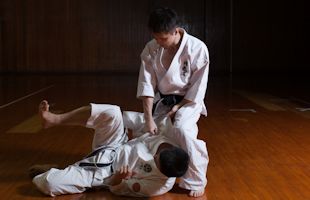 Feature of the technique
In Shukido karate, grabbing technique is permitted, which is very useful to defend yoursef. If you can take a blind spot and attack, a opponents' ballance will be lost and he will get little chance to re-attack.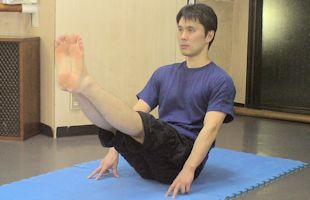 About yoga(breath of fire)
We adopt yoga, called the breath of fire, which make you poweful in both body and brain.If you practice everyday, you can build up your physical strength, that will effective in your work.
Time schedule
Sunday
10:00~11:20 adult class
11:30~12:00 free practice
Tuesday
19:30~20:50 adult class
20:00~20:30 free practice
Thursday
19:30~20:50 adult class
20:00~20:30 free practice
■Other activity
promotion test, summer camp, fighting-match, kenjutsu class
Expenses
| | | | |
| --- | --- | --- | --- |
| expenses | admission fee | monthly tuition fee | recess fee |
| adults | 10,000 yen | 10,000 yen | 2,000 yen |
| students | 10,000 yen | 8,000 yen | 2,000 yen |
■you need to buy these things, when you enter.
*Gi(karate- clothes) : 11,000 yen
*protectors for hands and legs: 5,000 yen

1day karate-lesson for foreign tourists!!
Let's experience Japanese Budo culture!
We start to accept foreign tourists, who want to learn Japanese Budo(Karate).Candidates as follows;
1. Group(within 4 people) will be accepted.
2. Only one group will be accepted in one class.
3. An application is received in the order of arrival.
4 .You can choose Tuesday class or Sunday class.
5. In Karate, courtesy is valued, so please obey our rules.
6 .Middle-age and women group are wellcomed.
7. It costs 10,000yen as participation fees in one group.
8. You need a sweat suit in lesson.
If you are interested in this system, please contact us.
■you can observe the lesson anytime, if you contact us beforehand.
address:1-36-9 numabukuro, nakano-ku, tokyo
access: 1 minute walk will bring you dojo from numabukuro-station(seibu-shinjuku line)
■mail info@shukido.jp
Dojo guide
map